NEW JERSEY-BASED REALITY SUITE RELEASE ACOUSTIC ALBUM "CLOSURE" AS PART OF THE "AWAKEN" VINYL BUNDLE 
Album release: June 2022 
Label: DI Records 
Format: CD Exclusive 
Female-fronted New Jersey melodic rock band Reality Suite will release their first acoustic album, "Closure," a followup to 2019's critically acclaimed rock album, "Awaken." Marking a shift in the group's electrically-charged distinct sound, you can hear the advanced single, "Sleep With Ghosts" here. 
"Closure" is a gesture of gratitude towards Reality Suite supporters worldwide. After a series of dynamic concerts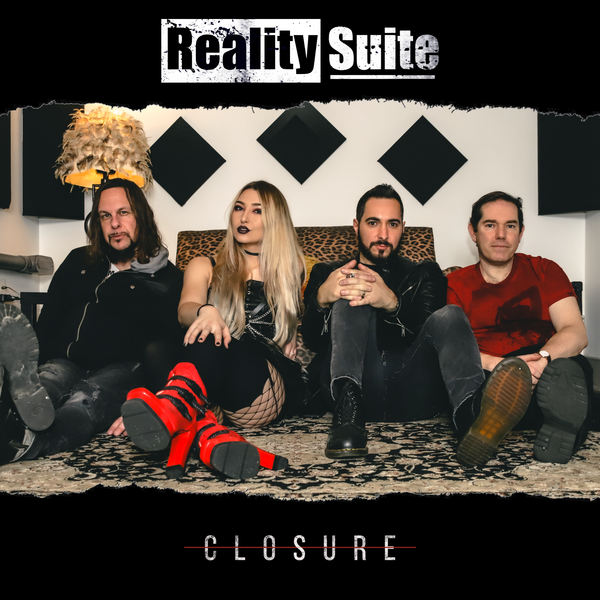 and online unplugged performances over the years, fans had repeatedly requested a formal acoustic album. In 2021, while the future of public performances remained uncertain due to COVID-19 cancellations and restrictions, Reality Suite began recording stripped down and reimagined performances of popular tracks and deep cuts from their first two studio albums, Skinn (2015) and Awaken (2019.) 
FAN CHOSEN TRACKLIST 
The tracklist of "Closure" is chosen by fans via social media polls that were posted in August of 2021. To make this collection even more special, Reality Suite decided to introduce two new songs - "Evolution Queen" and "Sleep with Ghosts." (Read about "Sleep with Ghosts" here) This is the complete Closure tracklist: 
Triggers (Re-Imagined) (Originally a digital single and bonus track on the 2021 vinyl release of Awaken) 
Evolution Queen (New Song) 
Lust (Unplugged) (Originally on Awaken) 
Die Dreaming (Unplugged) (Originally on Skinn) 
Blame It on Angels (Machine Life remix) (Originally on Awaken) 
Wingman (Unplugged) (Originally on Skinn) 
Dead to Me (Unplugged) (Originally on Awaken) 
Sleep with Ghosts (New Song) (Featuring Sarah Wayne and Andrew Wayne of the band Aurin) 
Kiss the Ring (Re-Imagined) 
"I love Sleep with Ghosts! "Haunting" is definitely a word I would use to describe it. Really showcases Reality Suite's versatility as a band.  Sarah and Kimmi sound totally rad together!" - Tom Hanley, radio DJ of WRAT 95.9FM. 
CLOSURE STANDALONE CD AND AWAKEN VINYL BUNDLE BONUS DISC  
Closure will be available exclusively on CD as a standalone signed and numbered package - as well as part of an Awaken vinyl bundle focusing on their 2021 limited pressing. Closure will not be available on any streaming platforms. 
Only 50 vinyl copies of Awaken are left in the Reality Suite warehouse. These 50 records will be signed and numbered (1 through 50) and available with Closure as a bonus CD. 
AWAKEN VINYL BUNDLE 
Awaken (featuring Kiss the Ring, Triggers & Cut, Burn, Bruise - signed and hand-numbered 1 through 50 out of 50, red inner sleeve, white vinyl Closure acoustic CD - signed, featuring 2 new songs plus 7 fan chosen favorites, numbered 1 through 50 out of 100. 
Handwritten lyric sheet - your song choice (handwritten by Kimmii or Brian depending on the song) 
Awaken 11x17 signed poster 
Closure 11x17 signed poster 
Awaken hologram 3x3 sticker 
Tickets - two collectible Reality Suite concert tickets 
Closure digital download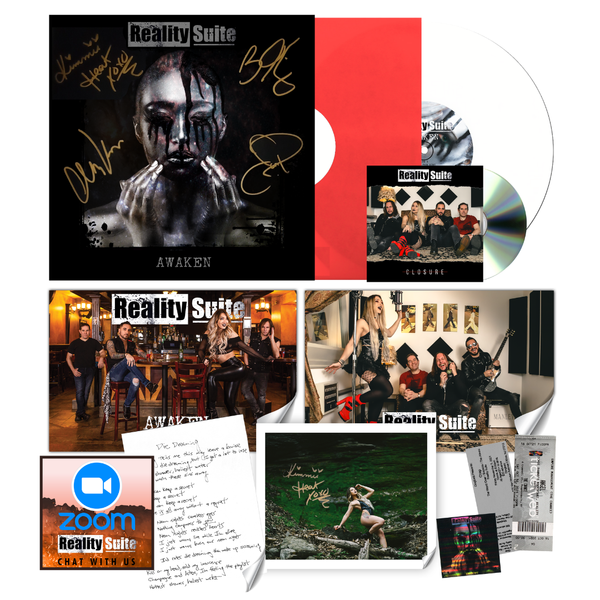 FAN EXPERIENCE BUNDLE 
Your name will be listed as a contributor in the CD credits 
30-minute Zoom call with the band 
Kimmii Heart 8x10 signed photo  
Awaken (featuring Kiss the Ring, Triggers & Cut, Burn, Bruise) - signed and hand-numbered 1 through 50 out of 50 (guaranteed low number), red inner sleeve, white vinyl 
Closure acoustic CD - signed, featured 2 new songs plus 7 fan chosen favorites 
Handwritten lyric sheet - your song choice (handwritten by Kimmii or Brian depending on the song) 
Awaken 11x17 signed poster 
Closure 11x17 signed poster 
Awaken hologram 3x3 sticker 
Tickets - two collectible Reality Suite concert tickets 
Closure digital download 
CLOSURE STANDALONE CD 
Closure acoustic CD - signed, featuring 2 new songs plus 7 fan chosen favorites 
Numbered 51 through 100 out of 100 
Closure digital download