On February 5th, 2021, Reality Suite will release their first new music since June 2019's Awaken album.  The digital single, "Triggers" will be available on all streaming and download platforms via DI Records. Pre-orders on Amazon Music and iTunes will begin on January 4th. Recorded by Reality Suite, the single was mixed by two-time Grammy-nominated Mixing/Recording Engineer, Mike Ferretti (Sevendust, Saliva). To reward supporters for pre-ordering "Triggers," a free download of Reality Suite covering The Smashing Pumpkins' classic "Bullet with Butterfly Wings" will be offered. In addition, those who pre-order will receive a private link to an exclusive YouTube video of Reality Suite in the studio recording "Triggers." The free download and YouTube link will be attained by emailing a screenshot of the pre-order to info@realitysuite.com.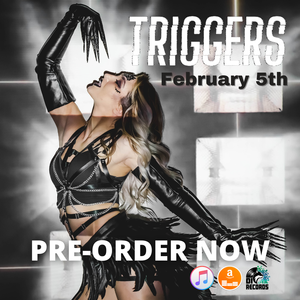 Triggers lure you back to tendencies that you've intentionally separated from. Triggers can also paralyze your reasoning to realize what is best for you. Whether it be unhealthy coping mechanisms or even outside pressures, something is always lurking around the corner attempting to cloud your judgment. 
In a recent interview with Tom Hanley from 95.9FM The Rat, Kimmii Heart (lead vocals) reveals "In much of 2020 I was in a depression. I had so much to say but wasn't finding the inspiration to write." Brian King (drums) adds "When New Jersey was under lock-down, we had the intention of writing several songs then releasing the best one as a single. But we were having trouble WANTING to write. Instead,  I found myself sifting through live recordings which ultimately led to a concert album and an EP. So, we spend half of the year celebrating our last few years of live shows rather than moving forward."  
In the Summer, when the Covid-19 epidemic seemed to be under control in Northern New Jersey, Joe Padula, Kimmii Heart, Antonio Valenti and Brian King reconvened for the first time in months in the backyard of bassist Antonio Valenti. Circling a fire pit after dark with acoustic guitars in hand, the band stumbled around some ideas until the verse for "Triggers'' was born.  The writing of the song went quickly with the newfound inspiration coming from the polarizing era we are surviving in.